Discover our resort and choose your life style! Enjoy!
Choose your resort to access the ski area:
Large resorts or mountain villages. Alpe d'Huez grand domaine enables visitors to choose a location style to suit them while enjoying one of the largest ski areas in Europe. This complementary and variety is the strength and soul of Alpe d'Huez grand domaine.

Ski resort in the northern Alps, known world-wide thanks to the Tour de France and an exceptional ski area !
Alpe d'Huez offers maximum sunshine due to its location on a south-facing plateau at an altitude of 1,860m. Its nickname of Island in the Sun, comes from its position above the sea of clouds that often forms in the valley.
Whether you are a keen winter sports fan seeking excitement or just want some snowy fun with the family, the resort has redesigned new areas to ensure satisfaction for everyone.
For holidays in a family resort
At an altitude of 1,600m, Auris-en-Oisans stands tall opposite La Meije . Thanks to the huge connected area, Auris-en-Oisans can guarantee skiing all season.
Enjoy a unique experience, notably on the legendary Sarenne run, with its famous 2,000m vertical drop to the bottom of Signal de l'Homme, and admire the exceptional panoramic view over the peaks of Pic Blanc and Marmotte.
Open from Saturday 15 December to Sunday 4 April

– ESF ski school: 15 instructors (languages spoken: English, Dutch, Spanish, Italian)
– Access: RN 1091 to Freney de l'Oisans, then a 12km ascent on minor roads
– Expert slopes: La Fuma and Col de Cluy• Assets: beginners zone, "première glisse" ski pass and family areas, 28 snow cannons, return to the resort on skis
– Special for groups: free room for evenings, luggage room provided, possibility of an Ice bar
7 restaurants, 1 restaurant on the slopes, 4 sports shops, 4 shops, free night skiing
Our favourite slope: La Fuma, with its moguls and fir trees!
For more information www.auris-en-oisans.com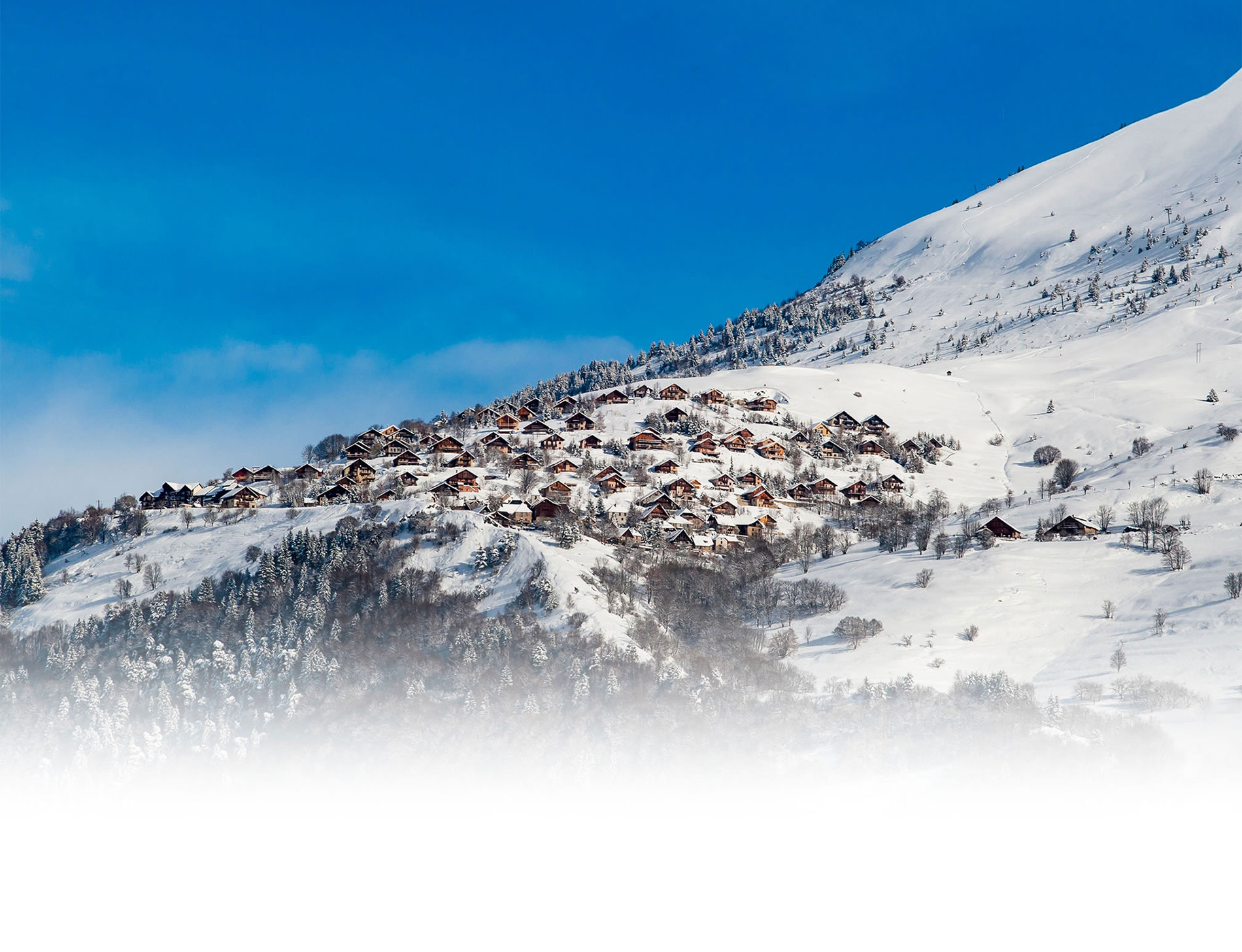 A village perched high above the Romanche valley.
At an altitude of 1,500m, there is a little village on the hillside overlooking the Romanche valley: Villard-Reculas is a peaceful haven of narrow streets and traditional chalets.
The Villarais chairlift links the resort to the entire ski area of Alpe d'Huez grand domaine Ski. Enjoy the cosy atmosphere of a mountain village for your evening outings and one of the world's largest ski areas for your daily skiing.The must-ski slope: La Forêt, with its moguls and fir trees!
Open from 15 December 2018 to Monday 22 April 2019
– ESF ski school: 10 instructors (FR-EN)
– 5 "Mountain Ski School": 1 instructor (FR-EN-SP)
– Expert slope: La Forêt
– Snowkite school5 restaurants on the slopes, 1 sports shop, 2 shops, 2 ski schools
Favourite slope: La forêt, with its mix of moguls and fir trees!
For more information: www.villard-reculas.com/
Choose your universe, your moods for holidyas full of emotions
The geographic location of these two villages links them to the ski area (Pic Blanc for Le Freney, Maronne runs for La Garde).
Explore the hamlet of Maronne et and the Fuma slope !