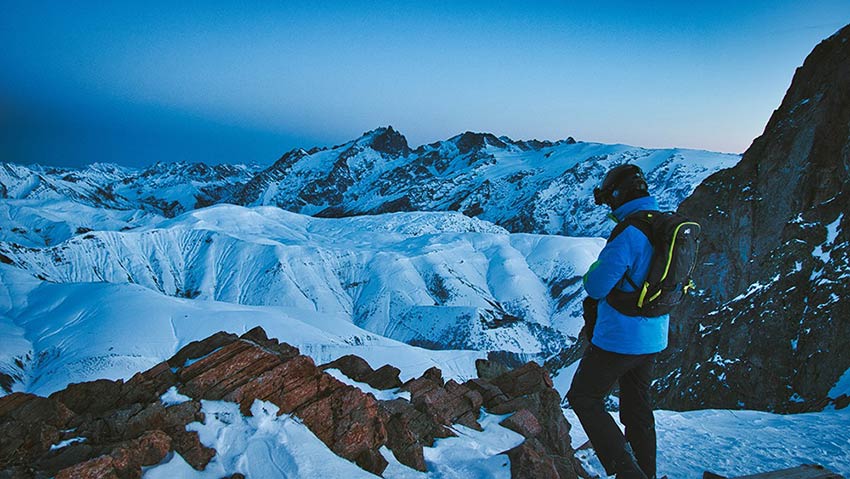 An unforgettable experience, skiing under the stars!
Head on up to Pic Blanc, admire the 360° panoramic view and marvel at the magnificent sunset, before skiing down the legendary Sarenne run, open especially for you. Take a deep breath and enjoy this magical moment to the full!
As the ski area prepares to close, take the last cable car up to Pic Blanc (3,300m). Enjoy a friendly meeting with our teams at the GUC refuge. Admire the sunset with a hot drink before setting out for Sarenne in the moonlight, or with a head lamp to light your way!

Our instructors and ski patrol teams will guide you all the way down.
Get ready to enjoy the best night skiing in the world!

Price: €55 per person/ €45 per person from 3 people with a "Tribu" pack (simultaneous purchase)

More pleasure with night skiing !
Ski with a view of the setting sun in Alpe d'Huez every Thursday (and Tuesdays too during the French school holidays) at the following times:
-Thursday 24 December 2020 to 4 February 2021 until 7.30pm
-From Feb 11 to March 18, 2021 until 8pm.
Rifnel lift will give you an access to Signal area till 5.30pm.
Enjoy the events in Auris en Oisans too:
Night skiing: Mondays 8, 15, 22 February and 1st March 2021, 6-8pm
Night sledging:
Wednesday 23 December, Wednesday 30 December, Tuesdays 5, 12, 19, 26 January and 2 February 2021.
From 5.30pm until 7.30pm
– Tuesdays from 9 February until 20 April, from 6pm to 8pm

4 Seasons sledge on rails with virtual reality
The attraction for the whole family !
4-Season, floodlit sledge on rails in Les Bergers (near shops/services), guaranteed operation in both summer and winter for maximum sensation!You are going to love its turns, waves, flip-flaps, twists and tunnels…Is that not enough? Then try the 4-season sledge with a virtual reality mask! The first in France!
This winter in Alpe d'Huez, you can forget all about boredom !!!
Discover our snowpark areas! Guaranteed thrills!
Les Jeux snowparks on the Les Jeux slope.
Access:
– Les Jeux aerial ropeway, DMC 1 from Alpe d'Huez – DMC 1800 sector
– Romains chairlift from Alpe d'Huez  – Bergers sector
"Initiation" snowpark:
This snowpark is ideal for beginner and intermediary levels, comprising two slopestyle lines, each with 2-3 tables (jumps) and 4-5 easy boxes.
Level : Blue/S and red/M
"Expert" snowpark:
Comprising two slopestyle lines, offering a dedicated area for experts to practise their sport. 3-4 tables and 8-10 technical rails.
Level: Black/ L / XL
And don't forget the "Cool Zone" at the bottom of the snowparks: an ideal place to chill out and listen to some music
Try out the 2 boardercross runs, depending on your skills
The boardercross is a ski slope turned into an obstacle course with jumps, gates and banked turns.Groomed daily, it is open to the most sporting of our winter visitors. A playground for champions, it hosts events and entertainment, as well as ski school competition.
"Family" Boardercross:

Simple routes, small banked turns, pif-pafs (series of turns) and whoops make up a streamlined route suitable for beginners.
"Expert" Boardercross:

Depending on snow conditions, its composition varies, but we already know that there will be whoops, step downs, step ups, tables of up to 10m, "transfer jumps", and inverted flats.