For all our budding freestylers
The kids park, specially designed for beginners, is below the Rifnel lift.Here, you'll find easy box modules to prepare our future sensation-seeking champions.
Level : Green / XS
Guaranteed laughter and excitement
There is no age limit for one of the oldest winter sports…Why not challenge your family and friends on the traditional sledging run under the DMC lift. The sensations are incredible, giving you plenty to laugh about.Go up to 2,100m and sledge down to the bottom of the resort.
Sledge with brakes and helmet are mandatory (not supplied) – payableAnd don't forget the sledge run at the bottom of the slopes in Les Bergers where access is free of charge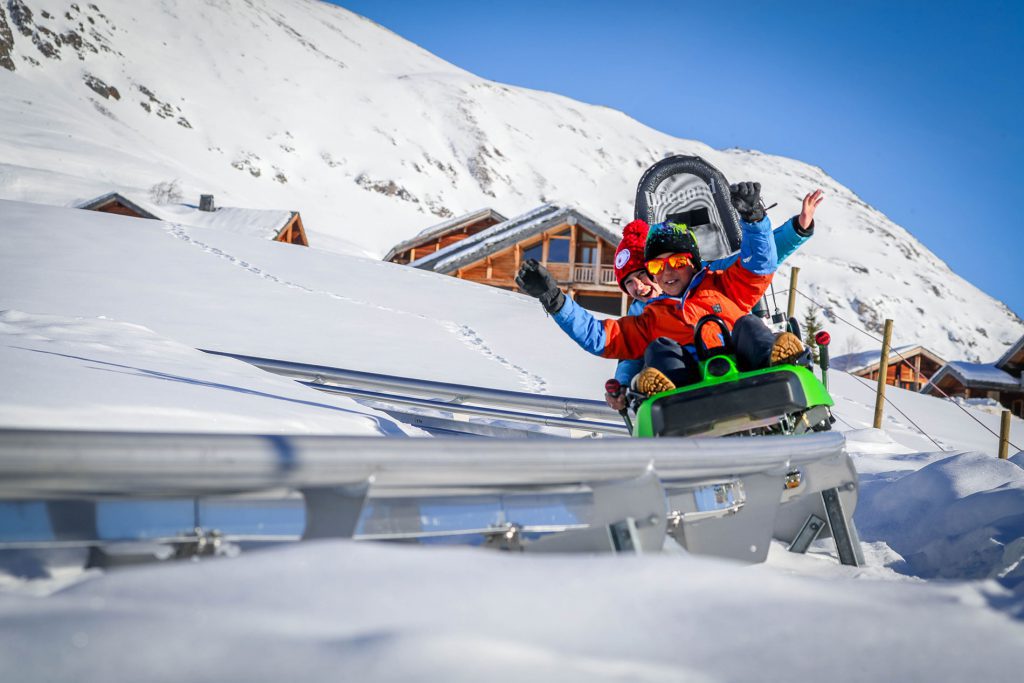 Season sledge on rails with virtual reality
The attraction for the whole family !
4-Season, floodlit sledge on rails in Les Bergers (near shops/services), guaranteed operation in both summer and winter for maximum sensation!You are going to love its turns, waves, flip-flaps, twists and tunnels…Is that not enough? Then try the 4-season sledge with a virtual reality mask! The first in France!
This winter in Alpe d'Huez, you can forget all about boredom !!!
Roger's slope in the Bergers sector
The "Baaa-est" slope in Alpe d'Huez !
With Roger's green run unlike any other: a cool, giant Boarder! Get ready to slalom and jump the sheep! But remember to keep control of your speed.You'll have to make the right decisions, because there are plenty of short-cuts to help you save time.
See you this winter with Roger and his friends on the "Baaa-est" slope in Alpe d'Huez!
Start: At the top of Romains or 2100 Les Jeux chairlifts
Access: Les Jeux aerial ropeway or DMC 1 from Alpe d'Huez – DMC 1800
Romains or Marmottes 1 chairlifts from Alpe d'Huez – Bergers
Les Bûcherons sector / Auris-en-Oisans
Relax and play with Jacques, the woodcutter.Deep in the forest of Auris-en-Oisans, learn more about the jobs related to wood.A good opportunity to combine fun and learning.
Welcome to the Bûcherons sector, a ski area for all ages in one of the most beautiful parts of the Alps!
Start: Auris sector – at the top of Les Sures chairlift
Access:Les Sures chairlift from Auris-en-Oisans
100% fun skiing for the whole family
When the temperature falls, Marcel and his friends generally return to the stables in the valley to spend the winter in the warmth. But this year, Marcel is not having any of it! Come and visit Marcel's Farm for a whole range of new experiences. A variety of attractions and colourful modules: whoops, a tunnel to pass through, slalom, moguls, figurines and photo spots… fun moments on the slopes with family and friends.
Thrills and good memories guaranteed for pleasure at all ages!
Start: At the top of Signal (2,114m).
Access: Signal aerial ropeway or Grande Sure chairlift from Alpe d'Huez – DMC 1800
Villarais chairlift from Villard-Reculas