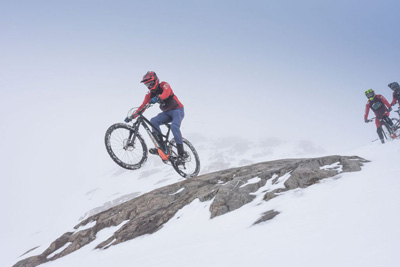 Re-live the Sarenne Snowbike starting line
At the end of every winter, the resort organises the Sarenne descent. Join in this friendly, fun event with its crowds of participants!
The day starts at around 8.30am at the DMC to reach Pic Blanc at 3,330m. As soon as the snow has softened a little, the flags are raised! Riders make their way down to Huez village at their own pace.
Participants return to the resort via the Télévillage lift for a friendly brunch!
(Under 16s: parental authorisation required for the day of the descent – Mandatory equipment: full face helmet, back protection, long gloves, knee and elbow pads, protection against the cold)
Don't hold it in, laugh out loud !
To put comedy in the limelight for an evening, for the 22nd time, we are organising an event dedicated to this popular genre that everyone appreciates. The Alpe d'Huez international comedy film festival, from 19 to 24 January 2021, welcomes an exceptional jury to host this evening event.
Members include: Omar Sy, Gérard Jugnot, Antoine de Caunes, Fabrice Lucchini, Florence Foresti…

Try them and never look back!
To mark the start of the season, Ski Force will be stopping off in Alpe d'Huez.
For 2 days ( 5 and 6 December 2020), the biggest ski manufacturers present their equipment. See, compare and try out all the new innovations on the winter sports market.
Come with an ID card and your ski boots and poles.
Location: Les Bergers